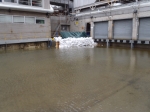 Disaster Preparedness: Is your facility ready for the worst?
August 13, 2012
by
Diana Bradley
, Staff Writer
This story first appeared in the August 2012 issue of DOTmed Business News

In August 2005, Hurricane Katrina touched down in southeast Louisiana as a Category 3 storm, leaving in its wake a battered populace and a woefully underprepared and overworked emergency response system. A number of hospitals languished under water for weeks.

"There was no police department, no telephone service, no power," says Norris Yarbrough, Ochsner Medical Center's VP of emergency preparedness. "All you saw was pitch-black where there was once a city."



Immediately following the catastrophe, New Orleans-based Ochsner was the only health care facility able to serve the community. Yarbrough is among a growing group of health care professionals who have experienced major disasters firsthand and have picked up lessons they're sharing with others.

Pro-active preparation
Most health care facilities conduct an annual hazard vulnerability assessment (HVA) to identify potential risks.

"This is done under normal circumstances through an
internal committee review and collaboration with other emergency response partners," says Sandra Williams, emergency operations center manager/safety officer at Oakland, California-based Alameda County Medical Center (ACMC).

Many agencies and organizations directly support hospital preparedness, including: The U.S. Department of Human Services, Assistant Secretary for Preparedness and Response, local public health departments, and local government bodies. Further to this, public and private sectors now go to great pains to be transparent with each other on disaster response – a union virtually unheard of 15 years ago.

"It's not a problem for a state to tell you what their resources are and how you can access them, through The Office of Emergency Communications' Regional Coordination Program," says Yarbrough.

Emergency managers in the same state or region regularly work together to produce the best possible outcome in a disaster, not just for their own institutions, but also for the area at large, according to Kristin Stevens, NYU Langone Medical Center's director of emergency management.

"If another hospital in NYC goes down, we are all going to be impacted by it," she says.

Meanwhile, certain health care facilities have alternative planning strategies. To prepare for emergencies like Katrina, Yarbrough and his team take a literal "two column approach" to planning. To start, a line is drawn down the center of a piece of paper to create two columns. The left-hand column holds a list of all the resources necessary for the hospital to operate day-to-day. The right-hand column contains the list of external bodies needed to furnish those resources. When the list is completed, Yarbrough tears the paper in half and throws the right side away. "You need to figure out what you need to do internally before disaster occurs to continue to supply the left column if the right side is gone," he says.

Defining "disasters" and solutions
ACMC views a disaster as anything that disrupts the ability to provide care and treatment.

"In health care, most facilities use four categories to identify
the types of events, as well as assess the hospitals preparedness for response, including: naturally occurring, hazardous materials, technological, and human-related," explains Williams.

Hospitals need to be prepared for everything and anything, no matter how small the problem may seem – even as tiny as a squirrel.

"One of our main reasons for power interruptions is when a squirrel chews through one of our communication lines and fries it," says Yarbrough.

Emergency management differs region to region. For example, flooding and coastal storms are a potential threat to NYU Langone, located 100 yards from the east river, according to Stevens. And in places like Alabama, tornadoes run rampant.

"When I was doing emergency management work in Birmingham, there were tornadoes," says Yarbrough. "Whether you are protecting equipment, employees or patients during a tornado, you are building bunkers that can withstand high levels of wind."

A natural disaster like a hurricane, meanwhile, is more of a double-edged sword, combining high winds and rising water.

"You must take power distribution systems and get them up above flood levels," Yarbrough advises.

If it is not possible to raise equipment, Ochsner creates dikes and houses equipment in waterproof facilities.

Avoiding a record-breaking disaster
The key to protecting patient data during a disaster is to have appropriate safeguards in place at all times. When not in use, paper records should be locked up and electronic data should always be secure, encrypted, and backed-up each day, according to Nancy Dean, VP of compliance, privacy and internal audit at NYU Langone.

"It's also important to make sure staff has been properly trained regarding patient data security so they remember the importance of handling and securing data during a disaster," says Dean. "If data is compromised in such an event, it's important to respond to the breach as quickly as possible and to mitigate the effects by offering identity theft protection services and letting individuals know what has happened so they can be on alert and take extra precautions, such as checking credit reports and reviewing all medical bills and explanation of benefits."

For some health care facilities, it might be wise to have
commercial data centers in two or three different locations in the country managing and storing patient data in the cloud for backup purposes, recommends SourceHOV HealthSERVE Radiology Inc.'s Ron DiMuro, VP of technology services. DiMuro's company provides enterprise class vendor neutral archive solutions, providing secure storage at commercial data centers in Atlanta and Dallas.

"Let's say you are a three-hospital system in a state, and that state and backup data center are in the same region," he says. "All the data could possibly be destroyed depending on the magnitude of the disaster."

A similar company, OffSite Image Management Inc., stores all data in non-proprietary DICOM format, allowing customers to access their data from anywhere, even if the local PACS server is not available.

"Anything can happen to cause disaster or failure; your system might simply decide to hit the brick wall, a busted toilet line could fry a server, or someone could even drive a car through your building because they got the accelerator confused with the brake," says the company's president and CEO, Lasha Dalakishvili. "We don't just want to protect and store your data. But we want to provide facilities with 24/7 access and full control over their information."

When crying wolf is warranted
Without the proper funding, a health care facility can only be so prepared for disaster. Depending on the area and the needs, facilities can qualify for emergency preparedness funding, but often aren't aware of that until an event occurs.

"After Katrina a lot of federal funds were pushed down to this region for our natural disaster type responses," says Yarbrough. "But when the sky is blue and everything is good in Oz, how do I keep that awareness level in front of these funding people without seeming like the person who cries wolf?"

Certain disasters, however, go beyond typical
emergency preparedness funding.

"Since 9/11, we have had an increase in grant money being available for hospitals to further emergency management efforts," notes Susan McLaughlin, managing director for MSL Healthcare Consulting, Inc.

While underfunding can be a problem, understaffing is an acute pain during disaster, with employees not being able to make it to work, or not enough staff available to man the task at hand.

"If we know a blizzard is coming, staff might elect to spend the night at the hospital before their shift begins," says NYU Langone's Stevens. "We also have a family care plan, which aids staff to document who will take care of their kids, pets, or elderly relatives when they are at work."

Most states will also have a rich source of medical personnel that can be active during a disaster. These members usually have pre-registered with bodies including Volunteer Organizations Active in Disasters and Medical Reserve Corps, which can be activated and members deployed where needed.

Complications with internal and external communications during an emergency are also something to keep an eye on. Most facilities use some form of electronic device to alert and notify staff members of internal or external emergencies. The standard in emergency management is to have redundant communication plans and devices. Redundancy is necessary to ensure uninterrupted communication when responding to disasters, according to Williams.

"In our redundancy, we have a system of satellite backup we can go to if we lose our Internet feed from our major providers; same thing with other utilities like telephones," explains Yarbrough. "In our command center, we have backup satellite phones as well as cell phones with out-of-state area codes."

Post-disaster: Recovery and lessons learned
After every emergency event, planners conduct a review to determine what went well, what needs improvement and what response strategies require corrective actions.



"This gives us an opportunity to address gaps in communications, resources and assets, safety and security, clinical activities, staff roles and responsibilities, and use of volunteers," explains Williams.

Post-Katrina, Ochsner has updated its
disaster response plan quite a bit. Most notably, by building the first privately owned hospital navy in the country to aid in any future hospital or nursing home flooding emergencies.

"We had specialized boats built, and purchased army surplus and troop transport vehicles," says Yarbrough. "We developed a waterborne rescue fleet where we can respond to New Orleans' hospitals immediately and evacuate 120 patients to other facilities within 12 hours."

This has been so successful that the state has approached Ochsner about setting it up as an Emergency Management Assistance Compact (EMAC), assisting health care facilities statewide. The Federal Emergency Management Agency (FEMA) is also interested in tapping into the EMAC program, utilizing Ochsner's waterborne rescue fleet on a nationwide basis.

Planning tips
All in all, the U.S. is doing well in the emergency preparedness arena, with the majority of the nation's hospitals meeting all-hazards preparedness measures, according to FEMA's 2012 National Preparedness Report from last May. But there is always room for improvement.

"Write the plan that you need to write to accomplish what you need to do within your hospital, and remember that it's always going to be an evolving document," advises McLaughlin.

Stevens recommends getting staff familiar with a plan, training people and running exercises to ensure it is effective. "The main thing is coming up with an all-hazards plan that can be used for all types of emergencies," she says.

Communication, resource management and knowing how to get messages out to the public can help a facility to better manage a wider variety of emergencies.

"We can't stop the tornado from coming down out of the sky, and we can't stop the hurricane blowing in from the Atlantic, but we do have the ability and the responsibility to limit the interruption and cost of negative implications that adds to operations," Yarbrough says.