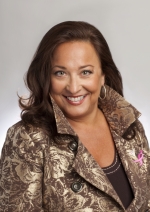 Pink ribbons and promises
May 30, 2012
by
Sean Ruck
, Contributing Editor
While the pink ribbon used to promote breast cancer awareness was first on the scene in 1991, the organization behind it has a history that goes back another decade.

Susan G. Komen for the Cure is the largest organization of its kind focused on eradicating breast cancer. Founded by Nancy Brinker as a way of fulfilling a promise to her sister Susan, who died of breast cancer in 1980 at the age of 36, it has outgrown its modest start (just $200 seed money and a list of friends to call upon) and now boasts chapters across the country and events that raise millions.

In September, shortly after her one-year anniversary with the organization and months before the recent flap with Planned Parenthood [see story on page 38], DOTmed News spoke with president Liz Thompson to get a better idea of Komen for the Cure's mission and methods. Prior to her time with Komen for the Cure, Thompson spent 17 years in medical publishing. It was in publishing that Thompson met a person that would shape her future.

"My very first job was with Appleton and Lang, owned by Simon and Schuster at that time," she recalled. "The publisher, Lynn Rector Patterson, was the very first woman to hold that position and I, like many others, had a great deal of respect for her," she said.

As the first woman to hold that position, Patterson faced significant pressure to prove herself to some with old-fashioned notions of the workplace. Unfortunately, Patterson wasn't just battling to break through the glass ceiling — she was also battling a disease, which would ultimately take her life. "I was working late one night and Lynn, who always was there late, asked me to answer the door when the bell rang. Two guys arrived with a sofa and I showed them down the hall to her office," she said. Patterson asked her in and invited her to sit down for a glass of wine. During the conversation, Thompson quipped that at some point, she too, would have a sofa in her office. Patterson laughed and wished her every success.

A friendship developed between the two, but after a few months, Thompson
observed something very unusual. "I noticed the door was always closed to her office. But I didn't have a hint as to what the problem was until another late work night when she called me into her office to talk about something," she said. "During the meeting, she told me she had metastatic breast cancer and didn't anticipate she'd be alive for the conclusion of a project we were working on."

Patterson hadn't disclosed to anyone else in the office that she had cancer — she felt it would be seen as a weakness, so she was incredibly lonely. "Toward the end of the conversation, she said, 'I really hope you'll make a difference in the fight against breast cancer.'"

She signed on with Komen for the Cure in 2008 as senior vice president of medical and scientific affairs and was promoted to president of the organization just two years later.

Today, although she is leading the largest charity focused on ending breast cancer, when asked what her biggest accomplishment is to date, Thompson's reply was surprisingly modest. "Like many working women today, just having a healthy, happy family . . . waking up to that every day is the greatest gift."

As for professional accomplishments, Thompson has followed the mantra of her boss and the organization's founder. "Nancy believes if you're comfortable, you're failing," Thompson said. "We simply have so much work to do; it's difficult to take time to celebrate accomplishments. But as a team, we're very proud of the job we've done to advance the message. We've been involved in every major advancement in the fight against breast cancer over the last 30 years. We've also expanded our circle to impact more globally. Now, we're looking to encompass Saudi Arabia, China and probably Brazil. As an organization, we have supported 600,000 mammography screenings and over 100,000 diagnostics."

While that expansion would be a great boon for women internationally, even at home there's still, as Thompson alluded, significant work to do. "We published a report where the findings showed about 50 percent of all eligible women are not being screened on an annual basis. These are women 40 and above. By eligible, we mean they're covered by an employer or Medicare," she said. "If we catch cancer early, there's a 98 percent survival rate."

Part of the problem, Thompson said, is that women generally make their appointments six to eight months out, during a slow business cycle. Yet, six months down the line, perhaps business is humming or family obligations pop up and the screening gets canceled or rescheduled. To combat this, she suggests companies create a "no meeting day" or even just a half-day once a month. A possible option for large companies is to park a mobile mammography unit on the premises and cycle through employees during a workday.

Financially, it costs $120 to screen, but 10 times more to treat. But Thompson
makes a good case of questioning a concentration on dollars and cents. In her words, she's "proud to be in a country where there's not a price set on the value of a woman's life."

If you're organization is interested in getting involved with Komen for
the Cure, Thompson suggests looking at your employee base to see if you could be part of a corporate screening base. For more suggestions on ways to get involved, visit the website at komen.org.