This report originally appeared in the August 2011 issue of DOTmed Business News
Medical sterilizers are a big deal for health care institutions, having a tremendous effect on both patient outcomes and on the bottom line. And the sterilizer sector – along with just about everything else – has been hit hard by the recession. The global economic downturn, according to research from Global Industry Analysts, Inc. has lengthened the product replacement cycle and slowed adoption of new technologies.
But there's good news gleaming off in the distance. Analysts at GIA anticipate that the global market for sterilization systems and equipment will reach $2.7 billion by the year 2015.
Rife with refurb
Hospitals in general have felt some ill effects from the recession. With fewer people having good health insurance plans, many think twice before seeking care. Not everything can be attributed to the recession, though. Reimbursement rates have dropped, too. The resulting tight budgets and difficulties in securing funds have led many hospitals and clinics to delay buying major equipment – such as sterilizers – or to opt for refurbished ones, according to the GIA report.
SPBS has certainly found this to be true. The company sells new and refurbished medical instrumentation and provides repair and maintenance services throughout the Southwest.
"We are seeing an increase in sales of refurbished medical sterilizers over the last three to five years," says Shannon Moore, director of sales and marketing for SPBS. "We think it took the recession to get people interested in refurbished equipment," Moore adds, noting that interest in refurb is especially high among smaller, rural hospitals.
Herman Dennington, president of Medequip Engineering Service Inc., agrees. "The bang for the buck is so much better with refurbished sterilizers," he explains.
It is important to note, says SPBS' Moore, what it means to refurbish a medical sterilizer. Improperly refurbished sterilizers, Moore and Dennington both attest, sully the name of refurbishers everywhere.
"When we refurbish a sterilizer, we start by taking the chamber of the sterilizer and having it pressure tested to see if there are any cracks or leaks," Moore explains. "If there are any, we discard the chamber." If the chamber is sound, the unit is fitted with new piping, values, gaskets and controls. "Sterilizer vessels are good forever, unless, of course, there is a crack or a leak," says Moore.
"New sterilizers can last about 15 to 20 years," says Dennington. "A refurbished sterilizer – as long as it's not a 'spray and pray' – should last about the same length of time, especially if it has the same warranty as a new sterilizer."
Going green
Fortunately, the economy has recently shown signs of making a turn around and so have sales of new medical sterilizers, notes Marie LaFrance, senior product manager for Steris Corp. "Customers are seeking the most productive, cost-effective sterilization equipment available," she explains.
Environmentally friendly options are important to customers, says LaFrance. This is especially true for large new construction projects where the facility is seeking LEED certification. LEED (Leadership in Energy and Environmental Design) is an internationally recognized green building certification system developed by the U.S. Green Building Council .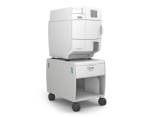 The market for service contracts has, consequently, continued strong, notes GIA. In fact, the report notes that "the ability to offer the lowest service rates spells success."
While sales of traditional, full-service contracts continue to be strong, some hospitals are opting to take their servicing in-house. "New, customizable service offerings are now being made available, often on a non-contract basis, to provide as little or as much assistance as in-house biomed departments may need or have the budget to support," says Laura Mather, director of service marketing with Steris.
"We have seen an increase in PM [preventive maintenance] contracts over the past year or two," says Moore, noting a healthy portion of SPBS' business comes from these service contracts. Hospitals used to take a full-service contract as a matter of routine with every sterilizer. But these days, to save money, many are opting just for twice-annual preventive maintenance programs. These programs typically cut down on repairs significantly and can be a good investment.
Some companies are even developing new types of service contracts. "Specialty services such as utility savings offerings and chamber cleaning services remain viable ways of maximizing the useful life of existing capital equipment," adds Steris' Mather.
Low-temp sterilizers are hot
"When we looked for a low-heat sterilizer, we followed all the standards in the Association of Operating Room Nurses," says Nancy Boyd , administrator of Crane Creek Surgery Center in Melbourne, Fla. "Some of our equipment couldn't go through a steam sterilizer," she says. "It couldn't withstand 217 degrees. So we'd have to put those materials through at a lower temperature."
Steam sterilizing gets pretty warm. To be properly sterilized, medical equipment must spend at least 15 minutes at 121 °C (250 °F) or three minutes at 134 °C (273 °F). But these temperatures take their toll on the machines, notes Jedrix Aquino, communications manager for Advanced Sterilization Products. Exposure to that kind of heat can lead to corrosion of more delicate instrumentation. Dennington explains that low-heat sterilizers represent about 30 percent of the market; traditional steam, which is less expensive, leads the way with 70 percent of sales.
Crane Creek Surgery Center purchased an ASP low-temperature sterilizer. "We wanted something that was safe, effective, and very time-oriented — something they could use for all the equipment," says Boyd.
Low temperature sterilizers typically use vaporized hydrogen peroxide to sterilize instruments and medical devices. "This lengthens the life of the instruments, it doesn't interfere with the metal as much," says Boyd. "I can tell just by looking at the instruments."
Another major benefit of the new sterilizer is speed. "We used to have to do multiple loads of equipment," says Boyd. "But now, we can [sterilize] an entire tray." And that ability has cut the turnover time from 40 or 45 minutes to a mere 28 minutes. "That's really helpful because sometimes doctors don't have many sets of equipment," says Boyd. "It has definitely increased productivity."
ASP sent a nurse to train staff at the center in using the equipment, which helped tremendously, according to Boyd.
"It's clean and easy to use – it's exceeding our expectations," says Boyd. "From a nurse's perspective, it's a very functional device."
A comeback in the fight against infection
While some cutbacks are inevitable in these economic times, GIA predicts as the economy recovers, hospitals will look at upgrading and replacing their sterilization equipment. The firm anticipates that the rise in surgical procedures will cast the spotlight on sterilization. In addition, our growing awareness of health care-associated infections will likely have a similar effect.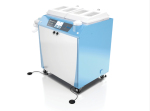 "Sterilizers aren't optional for hospitals," explains Dennington. "Hospitals have to have sterilizers. If the economy shifts, that can cause sales to fall off for a while, but they'll rebound in time." Dennington isn't worried about losing business due to the recession. "In the long run, you still sell X number of sterilizers in X period of time."
DOTmed Registered Sterilizers Companies
Names in boldface are Premium Listings.
Domestic
G. John Oggel, Green Cross Medical/ GOMED
, CA
George Perez, PES Medical
, CA
Joe Nessi, Dependable Sterilizer Repair, Inc
, FL
Jody Myers, Florida Eye Equipment
, FL
DOTmed Certified
Alda Clemmey, Saffire Medical
, MA
DOTmed Certified
DOTmed 100
Lois Waterman, Metro Scopes
, MD
DOTmed Certified
Abe Sokol, Absolute Medical Equipment
, NY
DOTmed Certified
DOTmed 100
Darren Walker, Duraline Systems
, NY
DOTmed Certified
DOTmed 100
James Graham, STS EAST
, NY
Shannon Moore, SPBS, Inc.
, TX
DOTmed Certified
Philip Mothena, Simple Solutions, Inc.
, VA