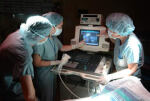 Special report: Refurbishers & ISOs move ahead with the expanding ultrasound market
May 23, 2011
by
Olga Deshchenko
, DOTmed News Reporter
This report originally appeared in the May 2011 issue of DOTmed Business News

For imaging resellers, recent economic conditions have encouraged bigger facilities that traditionally looked to OEMs to explore how refurbishers and ISOs might meet their needs.

In December 2010, MedPro Imaging reported selling 400 ultrasound units and transducers in a single month. Major health institutions, such as the Cleveland Clinic and USC University Hospital, purchased ultrasound equipment from the company.

"In the past five years, our refurbished [equipment sale] numbers have gone through the roof," says Keith Rubenstein, MedPro's managing partner and senior vice president of sales and marketing.

Ultrasound advances
Even in an economic downturn, innovations in ultrasound continued to expand. The technology's potential to open up new markets has even earned it the nickname "the 'stethoscope' of the future," Joseph Bjorklund, vice president, sales and business development, with Ultrasonix Medical Corp, wrote in a statement to DOTmed News.

Ultrasound is playing a bigger role in areas such as vascular access, guided procedures, preventative medicine and ultrasound-guided fine-needle aspiration, said Bjorklund.

Among women's health care providers, 3-D and 4-D ultrasound technology is very popular. "It's making its way into radiology, but it hasn't exploded yet," says MedPro's Rubenstein.

In addition to hospitals, refurbishers have also seen a higher demand for ultrasound equipment from pain management offices, general practices and sports rehabilitation facilities. "Physicians and patients like the fact that ultrasound can provide imaging without exposure to radiation," wrote Bill Cowan, vice president of Liberty Diagnostic Services, in a statement to DOTmed News.

Compact leads the way
One of the fastest growing sectors in the ultrasound market has been hand-held systems. In 2010, compact systems outpaced the overall ultrasound market and totaled $276 million in United States sales, according to a 2011 report by Klein Biomedical Consultants.

In 2010, sales of compact ultrasound units (defined in the report as systems that weigh 14 pounds or less) grew by 21 percent from 2009. The report also predicted that the compact ultrasound market will continue to grow by 13 percent over the next five years and total $505 million in 2015.

The compact ultrasound leader is SonoSite, which holds 42 percent of market share, followed by GE Healthcare and Philips Healthcare. Together, the three OEMs hold a market share of 78 percent, according to the report.

This growing trend makes itself known in the third-party market as well. MedPro's Rubenstein says handheld systems are the number one product for his company, making up about 65 percent of its business.

In addition to carving a broader customer base, the expansion of the handheld ultrasound segment is also creating a bifurcation in the overall market, says Christopher Cone, president of Unisyn Medical Technologies.

The handheld segment is driving down the cost of the devices and establishing more specialty applications, while building a new end-user base for lower-end systems, he says.

On the other hand, advancements on "workhorse radiology and cardiology products" are bringing more transducer options and applications to providers, which are creating momentum for the higher-end, more traditional systems, says Cone.

The refurb challenge
But as high-end systems grow in sophistication, they also become more complex. For third party service providers, one of the persisting challenges is efficiently servicing the latest, high-end equipment.

When a new ultrasound platform comes out, ISOs wait approximately two years for it to mature, explains Cone. In about the third year, companies begin to develop service delivery programs. "The reason we do that is we want to wait until the platforms show some stability," he says.

Oftentimes, new platforms require software patches or have hardware issues, which OEMs upgrade and iron out within the first few years of a product's life.

Another reason ISOs take their time to develop a servicing plan is because they're waiting until a source other than the OEM invests in parts for the new platform. "Parts availability is a fundamental challenge of servicing any diagnostic equipment but it's acute in these newest platforms because it takes time for third parties to make some investments in those systems," says Cone.

There are also barriers when it comes to software, such as diagnostic keys. It takes some time for ISOs to engineer access to the necessary software, either by working with an OEM or without it, says Cone.

A popular system that currently lacks solid ISO service support is the GE Logiq E9, a radiology product that has been on the market for a few years.